Make money with hosting your site
Does making money with having your site hosted somewhere sound too good to be true? Well today we'll be showing you how that isn't too good to be true, and how you can get started with it yourself. For this we'll be showing you how it's done with our very own hosting, so in case you haven't joined us yet, you can do so here.
Two weeks ago as of writing this post we put up an announcement regarding our affiliate program. In this we announced that as of that date, the affiliate program has been enabled by default for all our customers. With this program you can earn yourself a certain amount of money per month per customer that signs up with your code.
How does an affiliate program work?
An affiliate program is a program in which people can get paid a certain amount of money for getting friends or family to sign up to a service or product that has an affiliate program. In our case this works by sending a link to people who think might be interested. Upon clicking this link you get signed up as their affiliate. If they then proceed to buy our hosting within 2 weeks, you'll be receiving a monthly figure for them.
There is no limit to the amount of people that can be affiliated to you, which means no limit to what you can make. Once you reach a certain threshold, that has been set to avoid abuse, you may claim this money with a payment service of your choosing.
How to get started?
To get started you'll need to have signed up to our hosting services. Once you've done so you may navigate to our billing platform and click on home.
Once you've done so you'll be met with a screen that looks something like this.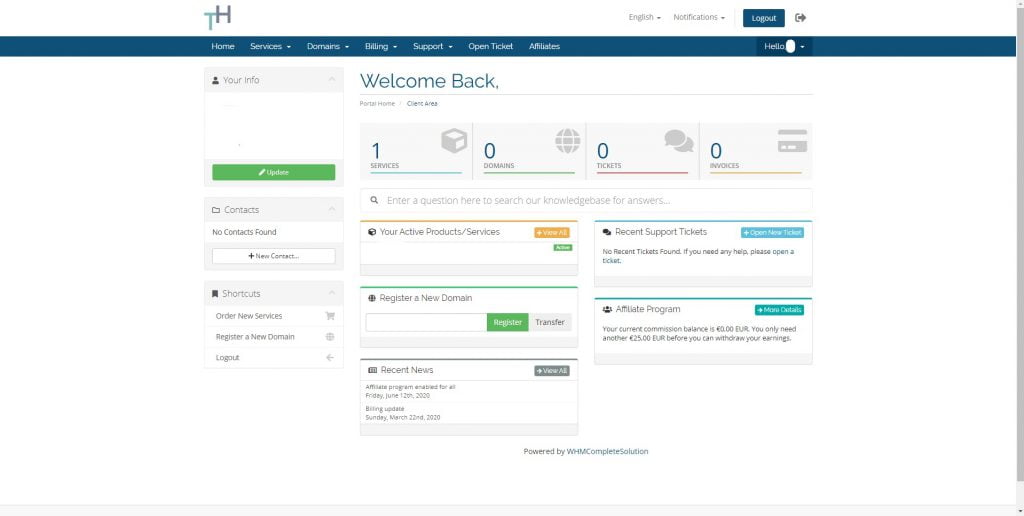 Here you may click on the Affiliates tab at the top, or on the Affiliate Program box with the button "More Details"
Once you've navigated here you'll be met with all the information you need about your affiliate status. This included
Amount of clicks on your link
Amount of signups with your link
Conversation rate for your link
Your unique affiliate link
Commissions balance
Amount withdrawn
Button to request withdrawal
Conclusion
With our affiliate program it's possible to get yourself a nice discount on top of our already extremely affordable hosting, or even start making money. It's now up to you to share your personal link to your family and friends, and start earning money!
If you have any questions regarding our affiliate program or anything else, please feel free to send a support ticket or contact us on Twitter.