The best free WordPress theme
One of the first decisions you'll make when starting your WordPress site is what theme to use. This choice will dictate most of what the rest of your site will look like. If you've ever looked at themes before there's a good chance you got overwhelmed with your options.
Aside from that, there's also many offerings that claim to be better than most themes, but at a cost.
Today we'll be looking at our all time favorite theme, and why you should be using it yourself. We'll be doing this by looking at our own site. In case you're interested in starting a website yourself, check out our hosting offerings and sign up!
If you haven't installed your WordPress site quite yet, we have this post which will get you started
What is a theme?
A WordPress theme is just that, it's a general look that carries through your whole theme. It mostly decides the general layout, as well as possibly colors and looks. It's important to find a theme that suits your liking, or is customizable to your needs. Aside from that you might also find it limits or allows certain features, which might be very important to you. These are things such as one-page design, or a custom header.
Our favorite theme
So you've looked at many themes, but haven't found the one for you yet. Well let us introduce you to our favorite theme: Kadence. This theme is one currently still in development, but already supports killer features that separate it from the crowd. Seeing as it's under development, installing it requires uploading it yourself, which we'll cover in a future article.
Features
So what makes this theme so good? And why should you use it. Allow us to list 3 of its best features.
1. Lightweight
The speed at which your site loads is critical to both your customers satisfaction, as well as your sites SEO scores. That's why having a theme that builds its own code on the fly is amazing to have. With our superior hosting and this theme this very site loads in well under a second!
2. Easy to use
Many themes will unfortunately require a lot of experience using WordPress or even coding to get them to behave the way you want them to. With Kadence most settings are very easily accessible in easy places, with an intuitive UI.
3. Header and footer builder
Making a nice looking header is often not something that can be done in any other way than switching themes, as there's no good way to customize them. With Kadence you get a custom header and footer builder, allowing you to drag and drop several UI elements in the perfect positions. As well as this it supports sticky and transparent headers.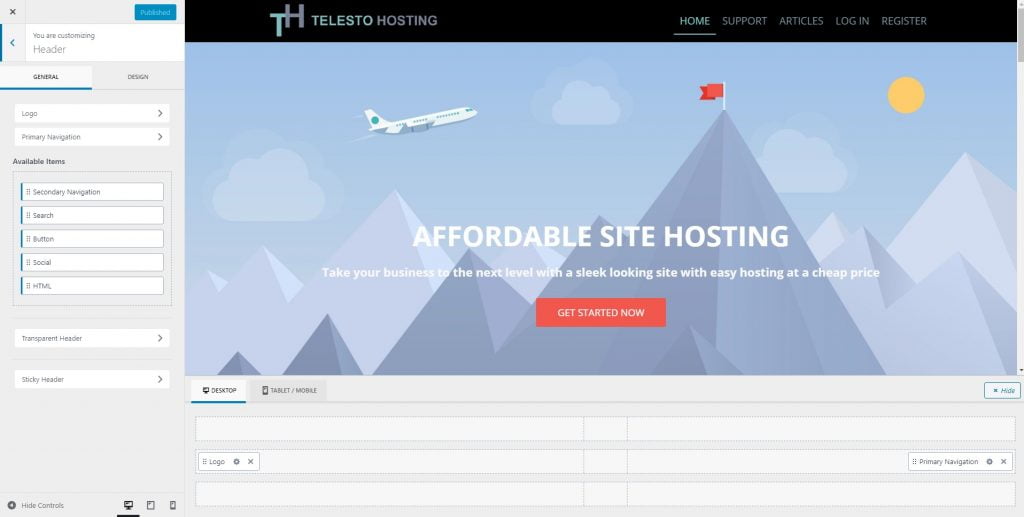 Conclusion
Choosing what theme to use is a massive decision, and never easy. After showing you this theme we hope to have helped you with this choice. We ourselves love using this theme after discovering it on our own. We hope to see its functionality expanded on even more in the future, with addition to the WordPress inbuilt theme browser as well.
Once you've started a theme, you might also be interested in knowing what plugins you should get. We have a blog post for just that which you can check out here.
If you have any questions about this theme, or anything else, please send us a support ticket or message us on Twitter!